Posted on
By Le Studio Luminaires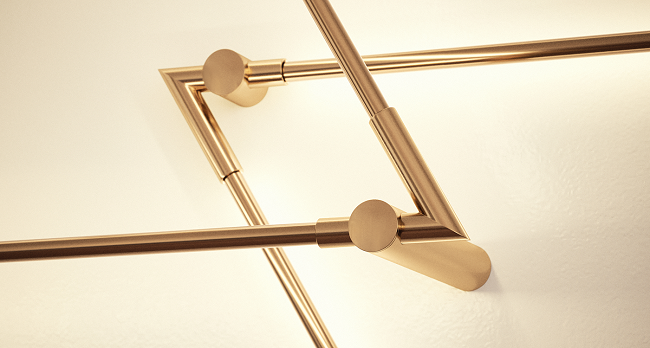 Materiality is important, especially when it applies to lighting. As trends change and tastes develop over time, it's important to choose timeless lighting that fits your space. Above all, we recommend light fixtures with long lifespans, made of high-quality materials.


1. BRASS
Known for its longevity and durable sustainability, brass has become a top material used in contemporary lighting design in 2019. Brass has actually been at the top of this list for a few years now, but in 2019, new brass finishes are rising in popularity. Brass requires minimal upkeep and cleaning needs, with environmentally friendly recyclability.
Juniper Lighting's thin system 
is known for it's minimal, yet luxurious brass tubing in various finishes.
2. GLASS
Perhaps one of the most common materials in lighting, glass emphasizes luxury and crystal-like extravagance. With such versatility, glass can be textured or smooth, transparent or opaque, colored or clear. Glass lighting is easy to clean and displays a beautifully diffused aura.
3. ALUMINUM
Aluminum is best used for
outdoor lighting
and high-output fixtures, which is why this material made our top 5 list of contemporary lighting materials for 2019. As
outdoor lighting
becomes more curated and developed in the high-end design world, like Juniper Lighting's 
Rail Outdoor Lighting System
, aluminum's demand continues to rise. Aluminum can be anodized for outdoor durability and waterproofing. Aluminum is also a fantastic heat absorber for high-output light fixtures, like the 
Metropolis Collection
. Naturally drawing heat out of the core of the fixture, aluminum serves as the best vehicle in keeping fixtures at manageable temperatures.
 4. FABRIC
As one of this list's most wide-ranging and versatile materials, using fabric with lighting is becoming undeniably popular. As markets begin integrating sound-proofing capabilities with lighting, fabric naturally serves as the variable in color palette. By utilizing high textures, and bright colors and patterns, fabric can be a playful solution to designs.
5. ACRYLIC
Acrylic sometimes gets a bad wrap as a cheap material, however it's important to note there is a whole range of quality in acrylic out there. High-quality acrylic, such as the Evonik Satinice Acrylic used to product the 
Love Me Not Pendant,
is used to create porcelain-like finishes, with a much higher flexibility than ceramic material. Acrylic's durability and lightweight body even tops glass as a diffuser of light. Offering a delicate softness with moldable and durable attributes, frosted acrylic becomes a luxurious material for lighting.
Juniper Lighting prides itself on focusing on the details and producing high-quality lighting with only the best materials available. Their contemporary lighting is thoughtfully-designed and precision-machined to satisfy our standards of design. As always, you can
contact Le Studio Luminaire's sales team
 with questions regarding any of our products.
original article published by Juniper Lighting